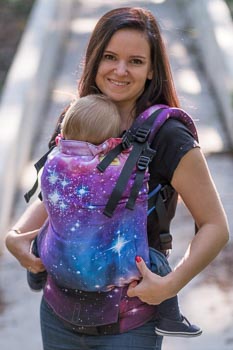 An ergonomic carrier is a type of a carrier that, from the medical point of view, correctly positions the hip joints of babies (knees bent to hip level or higher, legs slightly open to the sides) and ensures that the spine and head of the child are held adequately to the development stage. These carriers are made of materials of appropriate softness that allow for a stable wrap and hold the child's spine, they have a system of belts and adjustments that allow for flexible adjustment of the elements of the carrier to the changing size of the child. The criterion for classification as ergonomic carriers is compliance with the medical knowledge on the development of hip joints in infants, prevention of dysplasia, stages of formation of spine curvatures in the first year of a child's life.
This type of carrier includes all Natibaby baby carriers: NatiGo, NatiGrow, Onbuhimo, Onbuhimo Grow, Half Buckle, Half Buckle Grow, Mei Tai.
Ergonomic carriers do not include those with inflexible structures, considered unhealthy and harmful, in which the child's legs hang vertically downwards, the child is placed facing the direction of the walk, the spine is not firmly wrapped and held along its entire length.