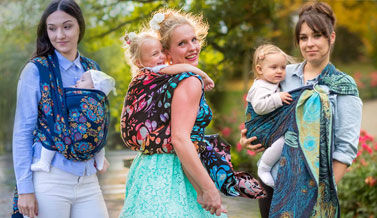 You can take your baby for shopping, to the forest, beach, train, and bus...
It is not always possible in a pram.
With your hands free, you can do more and go everywhere without problems. At the same time your baby collects many experiences you can explain on the spot. Finally, your child's ears are at the level of your breast (heart) and the baby can look at your mouth.
You can work in a garden, do the housework, have a social life simultaneously stimulating the natural learning and growing environment for your baby.
You can breastfeed with your hands free to make a phonecall or do some shopping.
Carrying in a baby sling is a perfect solution when your child cannot fall asleep. Rocking in the sling relaxes the baby and reminds it of the time before birth when it fell asleep immediately while you walked and felt safe emmersed in its mother's womb.
You can still walk when your baby is asleep and it feels safe and happy being close to you.