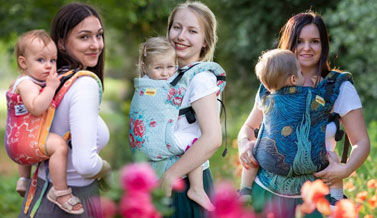 Our baby carriers are very comfortable for both - parent and child.
You can carry your baby at the front and at the back.
Each Natibaby carrier is an ergonomic baby carrier.
The ergonomic baby carriers successfully passed all the durability testing and are compliant with the strict Polish and European safety standards for children's products.
All Natibaby carriers are made entirely from wrap fabrics
Fabrics are dyed and woven only in European Union according to the rigorous ecological certificate. All the other additional elements used in the manufacture of the baby carriers are carefully selected.
The Natibaby carriers are manufactured in Poland.
All the carriers come with an illustrated and detailed user manual.
If you need another product made of these fabrics (like bags, carriers, slippers, blankets etc.) write an email to us at: natibaby@natibaby.pl