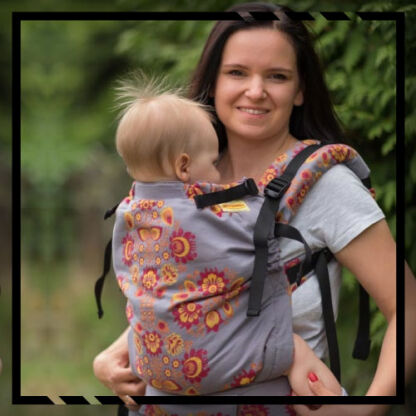 Fully adjustable the NatiGrow SSC allows for flexible adaptation to various stages of development of children weighing 3.5-20 kg (8-44 lbs).
Adjustable shoulder straps to ensure the comfort of adapting the baby carrier to parents with different body shapes.
Panel sizes [width, height]::
- Classic: 18-43 cm, 29-41 cm (7.1″-16.9″, 11.4″-16.1″)
- Classic+: 20-48 cm, 35-45 cm (7.9″-19.9″, 13.78″-17.72″)
- PreSchool: 30-52 cm, 46-56 cm (11.8″-20.5″, 18.1″-22.0″)
Allows you to carry your baby from the front (from the beginning of use) or on the back (children that can sit unassisted)
The panel is adjustable in 4 places: width at the child's neck and at the child's legs, height at the top of the panel and at the bottom. The adjustment is applied by the use of easy-to-use buckles and additional straps for the youngest.
Designed with special care about the youngest babies:

The innovative idea of ​​Natibaby shortening the panel from the bottom does not require unfastening the side straps. This is crucial for the safe and proper tension of the fabric on the back of the child. A strong wrap around the child's back is similar to the conditions found in babywraps that are considered to be the safest for the youngest babies.
Stable attached hood for 3 naps lets hold the baby's head.
Adjustable attachment of the hood to the shoulder straps allows its easy and flexible use.

Handy pocket lets you hide a cell phone, keys or other things.
Beautiful fabrics designed specially for carrying babies.
Fabrics are dyed and woven only in European Union according to the rigorous ecological certificate.
Easy to use.
Permissible error of measurement +/- 2cm