When starting the adventure of babywearing, most parents tend to choose a woven wrap. This is a classic type of wrap that will never go out of style. However, there is an alternative to the standard wrap - a ring sling, which can be tremendously helpful in everyday life. 'Quick and easy to put on' is the perfect way to describe the ring sling. It's another great item that makes parents' lives easier. And let's not fool ourselves - when you have kids any help is appreciated!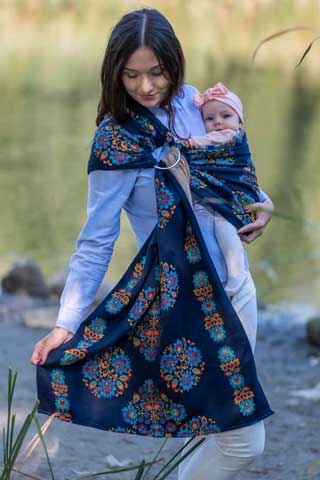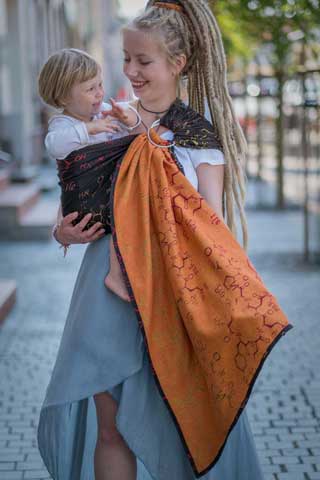 Characteristics
This type of wrap is finished with two rings on one side through which the wrap is threaded. The sling is threaded through the rings first and the excess material is tightened when the child is inside. Easy? Plain. You don't need much to properly tie the sling, especially with older kids.
It is undoubtedly a sling for special tasks. Do you need a wrap that you can quickly put on? A sling that you can always take with you without adding an another kilogram to carry in your purse? Do you have a problem walking your dog while holding your baby, picking up your older kids from kindergarten, stopping by the store for a moment or just doing a single household chore? For parents who are always on the run and need to get things done while carrying a baby in their arms, the ring sling can be a lifesaver.
This simplicity of preparing the sling undeniably speaks for the purchase of one, but if you're not convinced, we'll list a few more advantages.
In a ring sling babies can be carried from the first day of life (weight of 3-15 kg).
The ring sling has only one binding, which allows you to carry the baby in three positions. For newborns and babies who still aren't able to hold up their head on their own, a cradle position is intended. It's a horizontal position, allowing the baby to feel the closeness and warmth of the parent, being wrapped and snuggled closely to the parent, he/she needs nothing else to be happy. For infants aged 4-5 months and older there are two more positions, the so-called 'hip carry and tummy-to-tummy position. In both cases, the baby is in an upright position. The hip carry' is liked the most, the child in the sling "sits" on the side of the parent, has great visibility to explore the world and also feels safe in their parent's arms.
It's a good solution also recommended for babywearing beginners, for whom the standard wrap seems too complicated. A ring sling is a good start to enter the world of babywearing.
The ring sling is small, measuring less than half of the standard wrap. Thanks to this, you can easily take it with you anywhere. It will fit into most women's handbags, which are known to have no bottom :).
The price of a ring sling is attractive, because it uses less material than a woven wrap.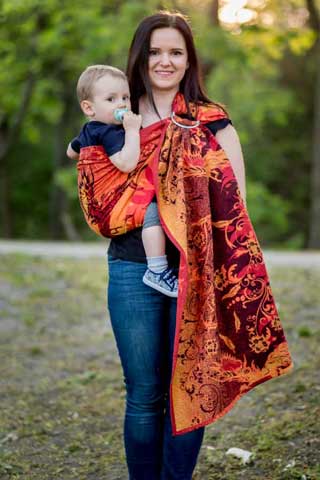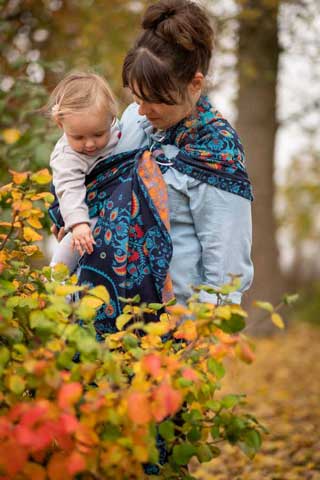 What to look for ?
There are several things that you should pay attention to when buying a ring sling, i.e. the size of the sling, the type of ring stitching, the shoulder on which it will be worn.
Size
Natibaby's offer includes four ring slings sizes: S, M, L and XL. The number of sizes was dictated by the needs of our clients, for whom the standard size (M) wasn't perfect.
The most accurate way to choose the size of a ring sling is by the following calculations: baby sling and wraps sizes
However, for people who prefer a faster way to check the size, we present approximate sizes of clothes and heights to individual sizes of ring slings:
Size S for slim people (women's clothing size 36 and smaller and a height below 170 cm). Ring Sling size S is about 1.80 m long
Size M - the most popular size of a ring sling, about 2.0 m long, for women of sizes from 36 to 40, with a height within the range of 165-180 cm
Size L - with a length of about 2.20 m adapted for ladies whose clothing sizes vary from 40 to 46
Size XL - about 2.30 m long adapted for mothers who wear sizes over 46
The sling size names can suggest the right size for us - if we wear the size S, then size S of the ring sling will most likely be suitable.
Type of stitching on the rings
The sling rings are sewn in two ways, we divide them into gathered and pleated shoulder sewing. Both types have their supporters, but the most popular one is the pleated shoulder. The fabric is evenly distributed on the wearer's shoulder, which is very important, because the entire weight of the child rests on one parent's shoulder.
| | |
| --- | --- |
| | |
| Pleated shoulder | Gathered shoulder |
Which arm?
Parents tend to choose the shoulder on which they're more likely to carry their baby in a ring sling. For some models with irregular patterns e.g. in animals, trees, or fairy-tale characters, it's important where the top and bottom of the wrap pattern go. Therefore, when buying, it is best to choose on which arm the sling rings will be located.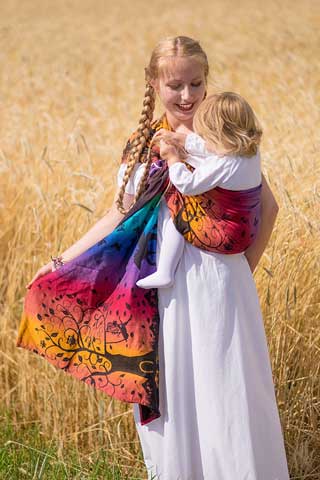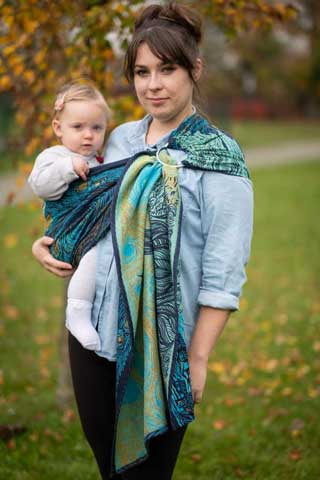 If we place a patterned a sling on the opposite shoulder, the picture will be upside down.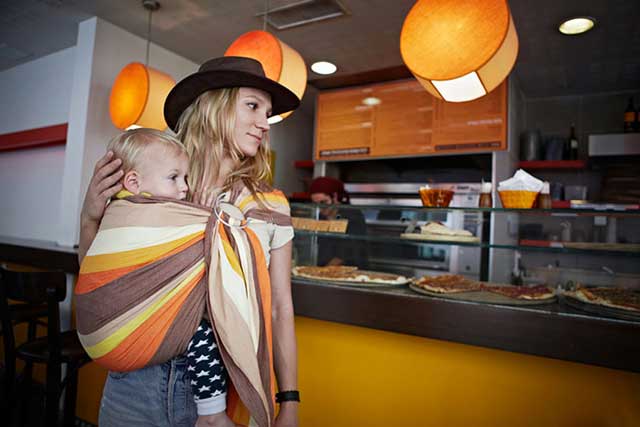 In the case of regular-patterned slings it doesn't matter which shoulder you wear it on.