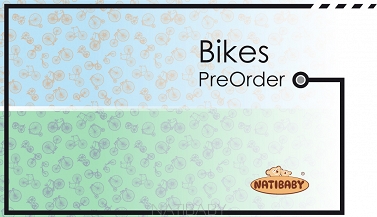 We invite you to take part in Bikes PreOrder
PREORDER lasts until 30.04.2017.
Hipster Bikes:
* 100% cotton
* 30% linen + 70% cotton
Beach Bikes:
* 100% cotton
* 24% silk + 24% hemp + 52% cotton
Everyone who is interested, please place an order in our internet shop. You can find details on our website in the bookmark WRAPS AND SLINGS - Bikes PreOrder.

The sum visible in the shop and in the order confirmation is only technical (technical pre-sales price - the down payment which will not be returned). When you place order please, pay only the costs calculated in the order confirmation. The rest of the price will be paid after the material is produced.
Projects of wraps which have been  presented  are just drafts. Colors in the photos may be different from the actual colors on woven wraps.
For payment for the mugs we will wait until 30.04.2017. Not paid pre-orders will be cancelled.