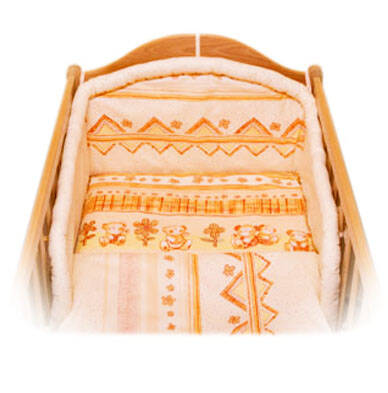 The set includes:
1. Inner pillow (40 X 60 cm)
2. Quilt (100 X 130 cm)
3. Pillowcase with zipper (40 x 60 cm).
4. Quilt cover with zipper (100 x 130 cm).
5. Bed skirt (flat sheet with ruffle and additional frill) of unique design. Apart from the covering ruffle, the bed skirt has also an additional lovely frill that can be placed up or down. The frill in upright position covers the mattress when the bed skirt is placed under the mattress. It is very useful, as the colour scheme of a terry fitted sheets and the bed linen do not always fully agree simply because they are dyed by different manufacturers. You may cover the mattress with this special frill and add more charm to the bed linen. Placing the frill down makes it an additional decoration of the bed linen, especially when you place the sheet on top of the mattress. The ruffle height is 30 cm, the additional frill is 10 cm, so it can cover also a thicker mattress.
6.. NATIBABY bumper pad was designed having your baby development in mind. Older babies are often unsettled while asleep, changing position, stirring, and bumping against the bed cod bars. Standard bumper pads are not enough then. NATIBABY bumper pad is designed so that you can protect the whole inside space of the bed cod with just two of those bumpers.
PLEASE NOTE !!! Our bed linen fits a baby bed cod sized 120 x 60 cm.